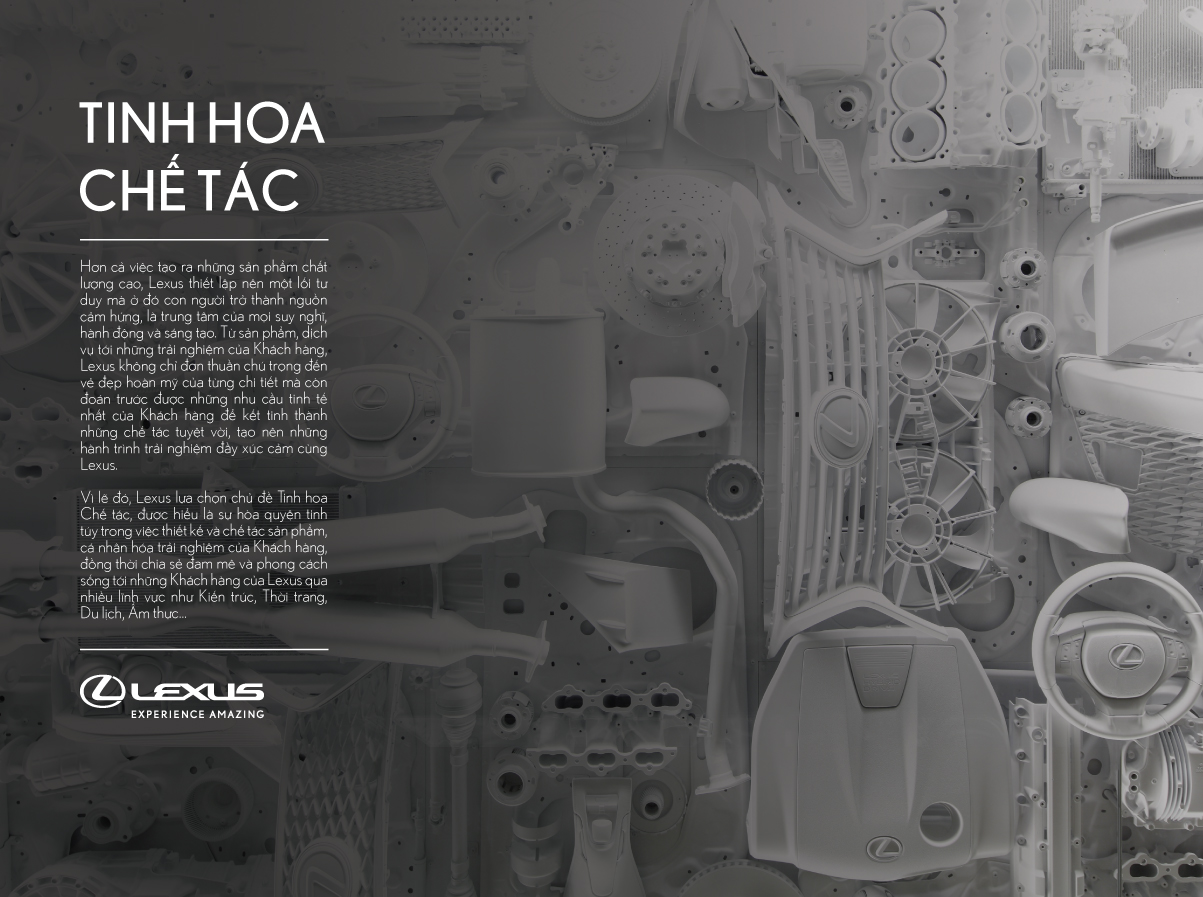 16 Oct 2019
Vietnam
Experience "Crafted – There is nothing crafted like a Lexus" at the Vietnam Motor Show 2019
- Reveal the new 2020 latest version of model cars beloved in Vietnam
- Special edition to remark 30th year anniversary of Lexus Global debut & on top of imaginative concept car
"We don't just not transport people; we transport their senses" – stated by Mr. Akio Toyoda, Lexus Global President.
With brave design, imaginative technology, exhilarating performance, empowered by the Japanese aesthetic and Lexus Takumi craftsmanship, Lexus has grown beyond a luxury automobile brand to become a lifestyle luxury brand through amazing experiences and masterpiece cars. Lexus believes Luxury truly comes from personalized experiences, emotional connection at the heart of true luxury and hospitality.
At Vietnam Motor Show 2019, customers not only contemplate luxury lifestyle car but also experience luxury lifestyle in emotional space inspired by Lexus Intersect where idea meets creative talents. It's all converged in "Crafted".
At this special event, Lexus Vietnam will officially launch the latest 2020 version of high- interest luxury cars in Vietnam with brave exterior aligned with Lexus' new design language, Segment-leading levels of safety and comfort to bring driving exhilaration.
In particular, customers and car – enthusiasts also have opportunity to contemplate for the first time crossover concept car like molten metal being forged into a fine Japanese sword, a showcase limitless of technology, innovation and the latest evolution of design at Lexus. Besides, a special edition of Lexus flagship to remark 30th year anniversary of Lexus Global debut will be officially introduced at VMS'19.
Inspiring stories about "Crafted" in Lexus brand corner, fashion masterpiece exclusively for Lexus crafted by well- acclaimed Vietnamese designer will deliver deeper connections, more sensorial experience for both attendants and Lexus lovers in Vietnam.
For more information, please visit our website at www.lexus.com.vn or contact:
Ms. Hoang Thi Nhu Quynh
Deputy General Manager
PR & CSR Division
Toyota Motor Vietnam
Tel: (84-24) 35536878 (ext. 120).
Fax: (84-24) 35536841- 42
Email: hnquynhhn@toyotavn.com.vn
REFERENCES
About Lexus
Since its debut in 1989, Lexus has refined the customer expectations and experiences about luxury cars. Lexus earned a worldwide reputation for imaginative, pioneering technology, high-quality products and exemplary customer service. With over 30 years of history, Lexus has been present in over 90 markets with more than 800 dealers around the world. With brave design, imaginative technology for exhilarating performance, echoing with Japanese artistry quintessence and Takumi craftsmanship, Lexus has truly transformed into a luxury lifestyle brand, tailoring amazing experiences to each and every customer all over the world
Inheriting those values, for 5 years in Vietnam, Lexus has been dedicated to continuing leadership in providing amazing products and superior quality services, crafting unforgettable customer experiences that inspire the strong emotional connections at the heart of true luxury and hospitality. Lexus Vietnam has 02 authorized dealers including Lexus Thang Long (Hanoi) and Lexus Central Saigon (Ho Chi Minh City). With premium products and services with the prestigious Omotenashi hospitality spirit, Lexus has received the advocacy and companion of more than 6,000 customers in Vietnam.
For more information, please visit our official website at www.lexus.com.vn
About concept "Crafted"
At Lexus our products and all elements of the consumer experience are designed with intent, a heightened attention to detail and an anticipation of needs and Omotenashi that is captured in an ideology we call "Crafted"